Continuous zips
Continuous zip by metre to create custom-length zips at a low cost!
Cursors are sold separately. The unit of sale for continuous zip is the linear metre:
Each continuous zip item added to your cart increases the total length of the zipper by one meter.
Moulded zip
---
Moulded 9mm (n°10)
High sturdiness.
Large chain with wide teeth. Zip adapted to bad weather and sports activities, suitable for nautical equipment, sail covers, lazy bags, boat cockpits, bungalow awnings, inflatable spas, party tents, trade fair stands, outside equipment. Double pull tab sliders and plastic sliders (corrosion resistant) available.
Plastique injecté 6mm (n°5)
Sturdiness and behaviour.
Chain with medium-sized plastic teeth. Fluid and quiet when opening and closing. For sportsbags, clothes, shelters, light tent and campervan awnings, huts, garden greenhouse sheeting, lightweight equipment covers. Suitable for all types of crafts. Double pull tab sliders avaible (for opening and closing from the inside and outside).
Waterproof zipper
---
Spiral coil 6mm (n°5)
Coated with waterproof resin.
Water-repellent and windproof zip. For backpacks, hiking bags, rainwear, ski suits, bikepacking gear, camping gear, water sports, fishing, hiking, outdoor fabric, mountain accessories. Ideal for withstanding bad weather.
Price per 100cm.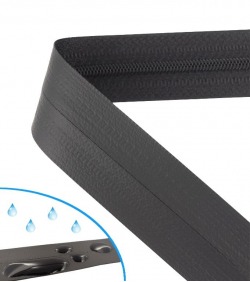 Out of stock - Restocking in progress
Spiral coil 4mm (n°3)
Waterproof zip tape
For various crafts: cases, waterproof accessories, identity document pouches, clothing ventilation (make your waterproof coat more breathable with zip openings), various storage comparments for hiking. The polyurethane coating renders the tape waterproof.
Price per metre.
Spiral coil
---
Spiral 8mm (n°9)
High resistance.
Large chain with wide teeth. Zips for caravan awnings, outdoor stands, tents, hunting hides, bivouac, carry bags, protective covers, saddle gear, work clothes, tarpaulin, industrial uses. For large crafts. Double pull tab sliders avaible (for opening and closing from the inside and outside).
Spiral 6mm (n°5)
Reliable and durable, the most common type of chain used in the textile industry.
Chain with medium-sized teeth, can be used under all circomstances for more durability. Zips for leatherwork, travel bags, all clothing types, jacket pockets, leather goods, shopping bags, messenger bags, boots, working clothes, furniture, camping tents, carrying bags. Suitable for all standard crafts.
Spiral 5mm (n°4)
Thin and resistant.
Chain with thin teeth to ensure sturdiness of your lightweight crafts. Examples of use: suits, costumes, wedding dresses, children's clothes, knitwear, sweatshirts, sports shirts, pockets, handbags, cases, shoes, ankle boots, mattress protectors, sleeping bags, seat covers. Suitable for many crafts.
Spiral 4mm (n°3)
Light and thin.
Chain with thin teeth for a compact and discrete design. Zip for lightweight fabrics, clutch bag, purses, inside pockets, pants, skirts, knitwear, baby clothes, infant sleeping bags, nappy bags, sportswear (ventilation opening, running apparel, cycling apparel, hiking clothes, fleece jacket), cushions, pillowcases, duvet covers. Ideal with reverse sliders to create an invisible zip or for a smooth effect.